| | | | |
| --- | --- | --- | --- |
| Gators give head coach his first win | | | |
By Sarah Ferguson, The Tribune, September 21, 2012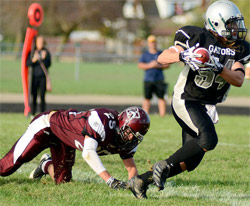 The Lakeshore Catholic Gators left the field smiling Friday afternoon after defeating the Saint Michael Mustangs 42-17.
The win was the first victory on home field for Gators' first-year head coach Bernie Tessier, who was happy to see his team work well together on the field.
"Everyone was very excited. The kids have worked hard and put in a lot of effort. The team were in sync with each other on the field, said Tessier.
"They did everything right. They caught well, they blocked well and they tackled well."
Opening the scoring in the first quarter, Jeremy Snyder had the Gators' first touchdown of the game. Kicker Cole Majoros put the ball through the uprights to give his team a 7-0 lead going into the second quarter.
Read more...
| | | | |
| --- | --- | --- | --- |
| Penalties hurt Gators in season opener | | | |
By Bernd Franke, The Tribune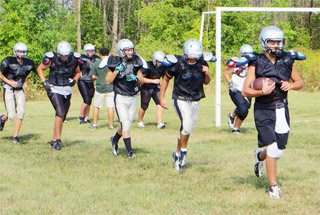 PORT COLBORNE - "Penalties of aggression" and a Saint Paul safety's excellent play on the final play of the game prevented Lakeshore Catholic from kicking off the senior quad A high school football season with a road win.
Though down 21-17 to the Patriots with under two minutes to go, the visiting Gators nearly went the distance of the field for a game-winning touchdown after intercepting a Saint Paul pass.
Lakeshore quarterback Jeremy Snyder had a "sure touchdown" thwarted when a Patriots safety got his finger on his attempted pass to Cole Majoros at the last second.
"It was as thrilling game, it came right down to the final play," Bernie Tessier said after losing in his debut as Gators head coach in Friday night's 21-17 loss at Mitchelson Park in Niagara Falls.
Lakeshore jumped out to a 17-7 lead and appeared headed for a win before running into penalty trouble.
Read more...
Ontario UNIVERSITY FAIR - in Toronto Sept. 28-30/12
College Information Program/Fair- October 23/12 in Toronto at the Direct Energy Centre Exhibition Place
Note: Much of the Student Services Section has been updated.  See top menu.
<<

Start

<

Prev

1

2 3 4 5 6 7 Next > End >>


Page 1 of 7