| | | | |
| --- | --- | --- | --- |
| Sparking Life Student Workout | | | |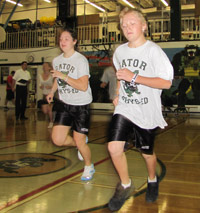 Sparking Life Niagara is a program being piloted at Eastdale Secondary School (Welland) and Lakeshore Catholic High School (Port Colborne) for the 2011/2012 school year.
Sparking Life uses aerobic activity for at least 20 minutes in the morning and shorter 'boosts' throughout the day. The goal is to help students be healthier and do better in school.
Students Workout Throughout the Day
School boards and teachers all were involved in selecting the schools and students to participate, based on scheduling, willingness to participate and likelihood of benefiting from the program.

Aerobic Physical Activity in Morning
Students start the day by doing at least 20 minutes of aerobic physical activity on treadmills, stationary bicycles and elliptical training machines

Target Heart Rate during Physical Activity
During the workout, students will target 65-85 per cent of their maximum heart rate. This means students can talk, but it's difficult to have a conversation.

Short Physical Activity "Boosts" throughout the Day
During the rest of the day, students will do a few short periods of aerobic physical activity to boost their mental focus.

The information learned from the program will be analyzed over the summer of 2012 to determine if students became more physically fit and/or improved academically. The results will determine if the program should be expanded to more schools and students in Niagara.
Lakeshore Catholic High School Spark Program