| | | | |
| --- | --- | --- | --- |
| Sparking Life Niagara - Key Messages | | | |

Sparking Life Niagara is a daily, aerobic exercise program which can help students…
o Improve academic performance
o Increase concentration
o Improve self-esteem
o Beat stress
o Improve health and well-being
Participating in 20 minutes of aerobic physical activity each morning, working at 65 to 85 per cent of maximum heart rate can improve academic performance though better concentration and organization.

Sparking life Niagara is a community-based project that is supported by Niagara Region Public Health, District School Board of Niagara, Public Health Ontario, Niagara Catholic District School Board and the Niagara Sport Commission. Two secondary schools in the Niagara region- Lakeshore Catholic and Eastdale Secondary- will pilot this project.
Sparking Life Niagara will be evaluated for program successes, including increases in students' physical fitness and academic achievement.
Upon completion of the pilot program, data will be analyzed to determine if there was an increase in students' academic achievement and physical fitness. We will use this information to determine if other Niagara high schools would benefit from the Sparking Life Niagara program.
Lakeshore Catholic High School (Particulars)
LCHS received approximately $45,000 in Grant money from:
o Jungbunzlauer, A Swiss based International Company which is one of the world's leading producers of natural and nature-identical biodegradable ingredients.
o The Forzani Group Ltd., a national sporting goods retailer in Canada.
With this money LCHS purchased:  6 Treadmills, 5 Spinning Bikes, 4 Elliptical Machines, 2 Recumbent Bikes, 2 regular Bikes, and 22 Polar Heart-Rate Monitors.  *All equipment is 'commercial grade' including warranties and maintenance packages.
Eight teachers attended a 4-Day Sparking Life Workshop in August (Kevin Timmins, Josh Oort, Chris McLean, Lisa Bowers-Young, Meghan Bodis, Kathleen McAllister, Teresa Zwambag, Diana DiPaolo).
Currently LCHS has 21 students enrolled in the Sparking Life Program.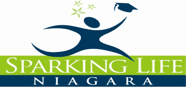 Lakeshore Catholic High School Spark Program